THE DANGER NIGERIA FACES, BY MAKARFI (PDP)
Senator Ahmed Makarfi, the National Chairman of the People's Democratic Party (PDP), points the way forward for Nigeria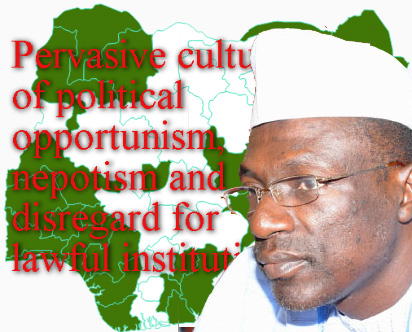 Nigeria, with a population of over 140 million people, is one of the leading African countries with huge natural and human resources and a strategic position on the continent. The country stands on the threshold of becoming one of the major actors with influence in both continental and global politics.

Since 1960 when Nigeria gained political independence from Britain, she has passed through many phases of governance; from parliamentary system to military dictatorship and to presidential system of government. Within the past 57 years of independence, the pressure on the political systems has led to periods of tensions and conflicts including the Civil War of 1967-1970.
For decades, Nigeria was saddled with military dictatorship immediately after her Independence in 1960; and the protracted military rulership led to severe under development and economic deprivation until the current democratic dispensation since 1999.
Over the years, one of the major challenges confronting Nigeria and hampering her development is 'transitional politics', given her complex socio-cultural setting that centrifugal forces at the centre often tend to weaken and undermine the federal structure. Notwithstanding, it is noteworthy that the PDP has recorded great success in this regard especially, by midwifing a transition from civil to civil rule in 2015 to opposition party after four consecutive terms in office.
I believe the following elements and ethos could stir Nigeria towards attaining higher glory:
Restructuring
It is no gainsaying that the vestiges of these tensions remain very much with us today; and as such, the demand for restructuring or rearrangement of the country should be taken seriously by our political leaders and other stakeholders across the nation. True 'federalism and presidential system of government,' no doubt, appear close to the heart of the people and, if well handled, 'will address the issues and accommodate all interests, fears and apprehensions of various ethnic groups in Nigeria. The question that needs to be addressed is how to achieve this goal and now!
Electoral Reform.
(a).     This is a major issue that has remained in the public domain with pertinent question on how Nigeria can come up with a stronger, more reliable and enduring 'electoral system' that will execute and sustain free, fair and acceptable elections in the country. However, it is instructive to note that successive PDP administrations took several steps to reform the electoral system, especially through the Justice Mohammed Uwais Electoral Reform Panel's outcome which significantly brought sanity into our polity, of which the incumbent government of the APC is a prime beneficiary.
(b). For emphasis, putting in place a quality electoral system is the crux of the matter for our political and democratic freedoms and development; and it must be handled with dispatch by relative stakeholders: National Assembly, political parties, Electoral Management Body (INEC) and other democratic institutions. It is expedient to do so, given that in the past electoral institutions were usually the first major casualties each time there was a change of government at the federal level.
Frequent military disruptions of democratic government in Nigeria attest to this fact; and as democrats practising multi-party system, we must get our electoral system right for our general good.
(c). My party, the PDP, believes in plural (multi) party system of government; and as a governing party then, it fully endorsed the position articulated by the Inter-Party Consultative Committee (PDP, ANPP, PPA and APGA but AC was absent) for an effective electoral system which they submitted to the Electoral Panel. We believed and still believe that, as major stakeholders, we had and will continue to have every reason and responsibility to collaborate with other stakeholders in coming up with functional, independent, enduring and acceptable electoral institutions, laws and value systems that would guide us in future elections; and meeting-up with emerging trends and developments in the political environment.
Let me note that no matter the amendments being sought to relevant sections of the Constitution, restructuring, quality electoral system, and other proposals that may change the direction of the country towards political freedom, economic vitality, environmental integrity and social inclusion, their success or failure will depend largely on the attitude/behaviour of the present APC-led administration.
To this end, all the actors in the Nigerian state have a responsibility to change the pervasive culture of political opportunism, nepotism and the hitherto hidden but now open disregard for lawful institutions which has become a culture of the leaders of the ruling party, the APC.
The post The danger Nigeria faces: Pervasive culture of political opportunism, nepotism… – Makarfi appeared first on Vanguard News.
Source: vanguardngr.com
Link: The danger Nigeria faces: Pervasive culture of political opportunism, nepotism… – Makarfi